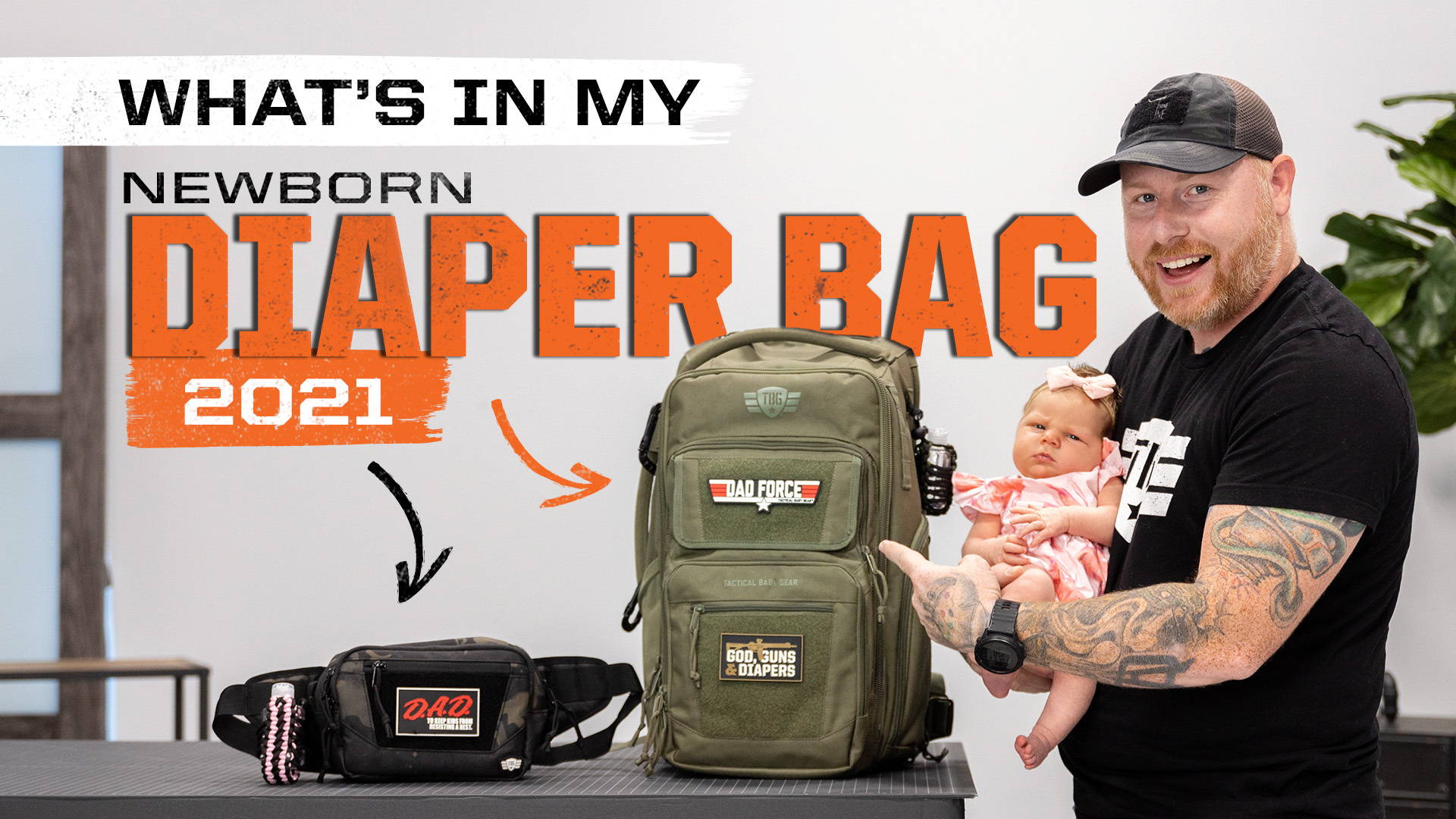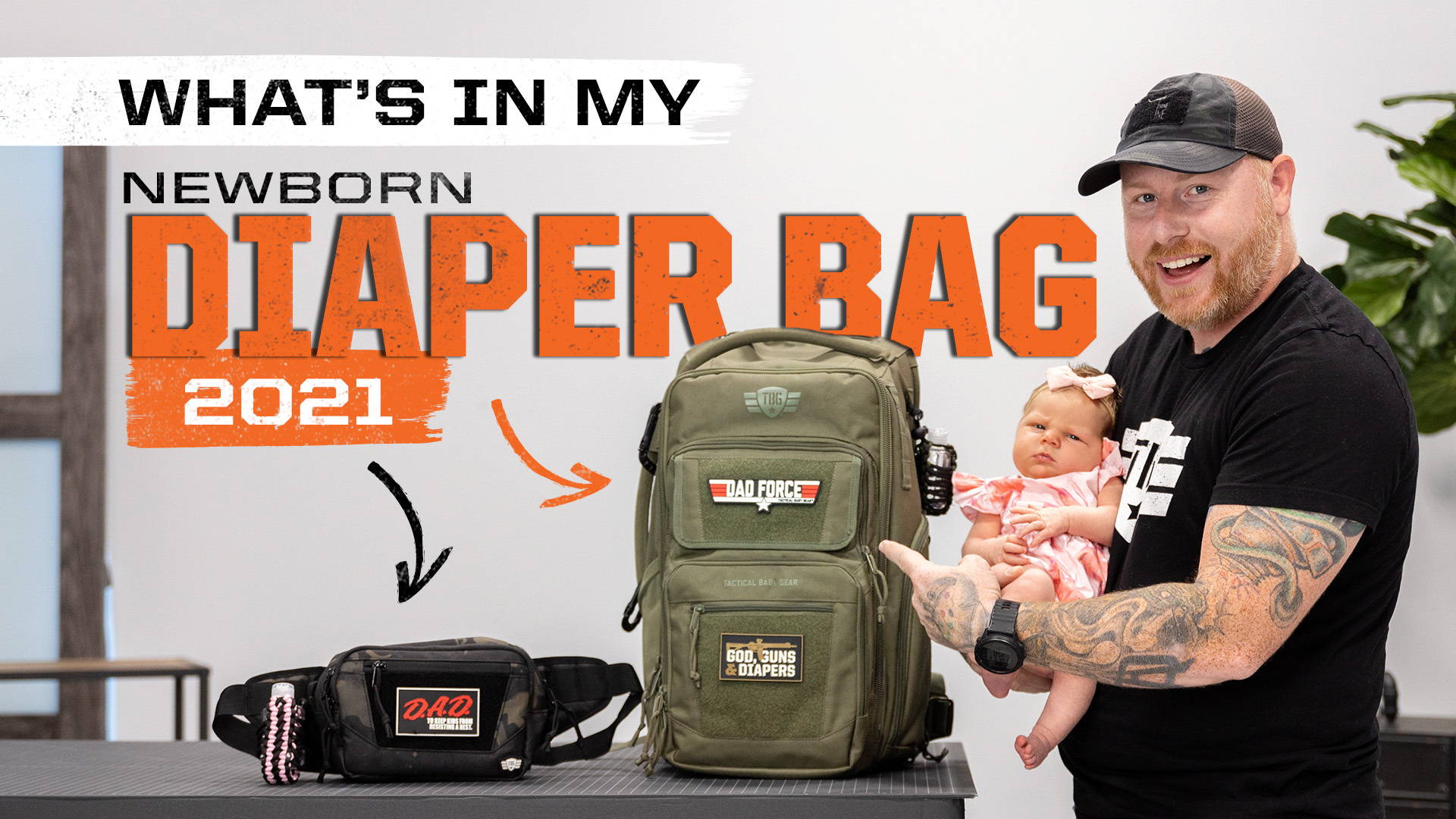 There are two types of people when it comes to packing a diaper bag. I am somehow both of them, and it's driving me crazy. As a dad, my personal nightmare is to be caught unprepared, so there's a part of me that wants to pack absolutely everything I could possibly need. And more than a few things I probably won't. But on the other hand, I love to just get up and go, and I don't want a heavy bag slowing me down. To try and find a measure of sanity, I've compromised with myself and currently have one of each style diaper bag packed.
My Diaper Bag:
For my full-size bag, I'm rolling with the MOD Diaper Backpack with Core Baby Panel in Ranger Green.
The MOD is a customizable diaper bag with a front panel that can be swapped out based on your current need or preference. I'm using the Core Baby Panel as mentioned, because with a thermal lined cooler pouch as well as a wipes pouch, this is the perfect panel for carting around a newborn. When Hannah's a bit older and we start going on more adventures, I may swap this for the Outdoor panel or something with MOLLE webbing. You can build your own MOD and see what works best for you on the Tactical Baby Gear® website. 

Core Baby Panel:

The wipes pouch is pretty simple. It fits most standard size disposable wipes packets, and it has a magnetized flap for easy access. Inside the cooler pouch I have an empty bottle with a formula packet and water for mixing it. Although my wife is breastfeeding, I do have Hannah out by myself at times and I want to be ready if she's hungry. Since I'm not exactly built for what she's used to, this will have to work in an emergency. When the family's all together, or if I just have the older girls with me, I can swap this out for water, juice, or even a beer for myself. There's a front pocket on this panel I keep empty as a space to quickly stash my phone, wallet, keys, etc.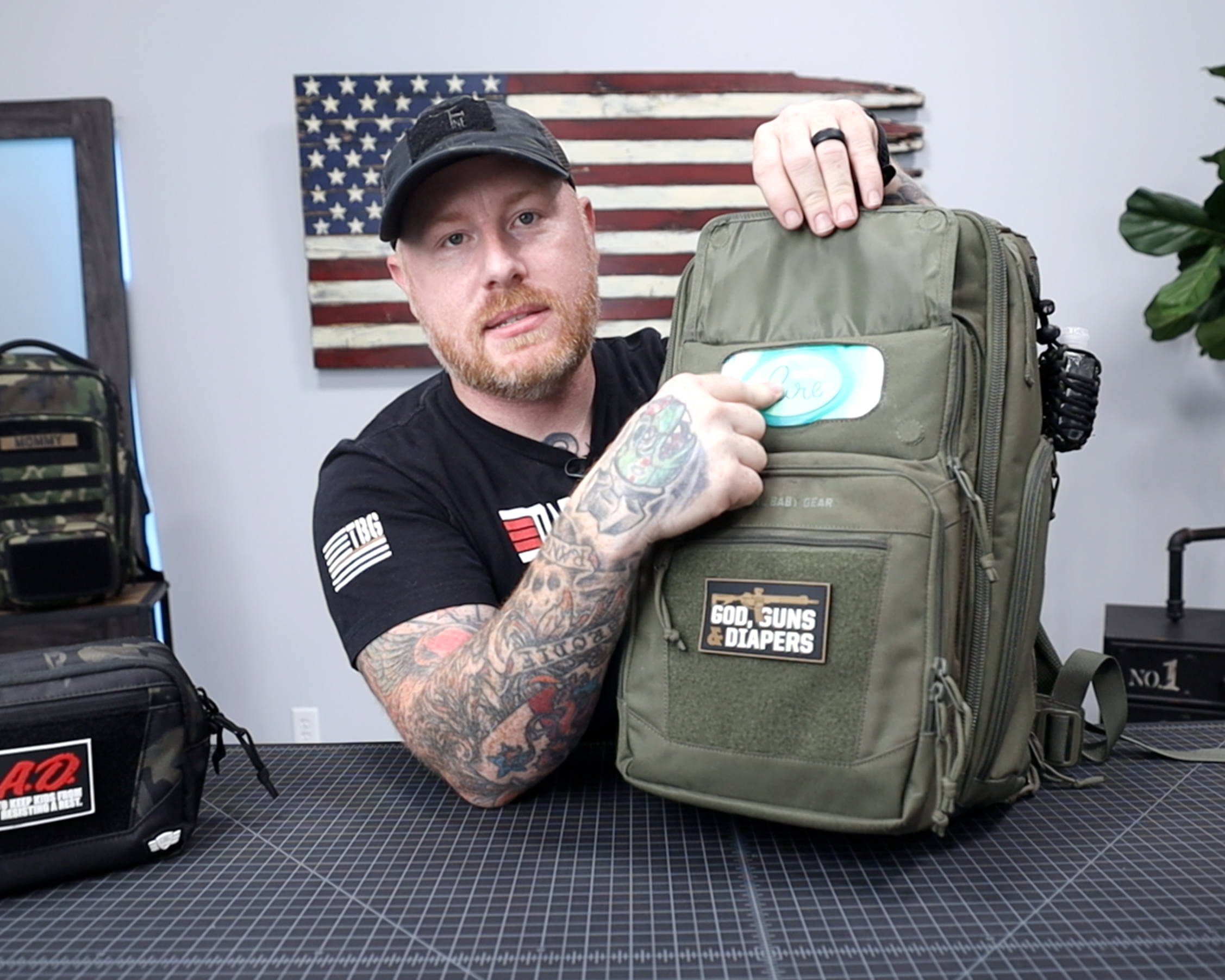 Bag Exterior: 

One of the really cool aspects of the MOD is the rear pocket. There's room in here for TBG's portable changing mat, made from an easy-to-clean polyester material, as well as an iPad. Since my older girls are 7 and 10, they can get a bit antsy when we have to wait around somewhere, like in a doctor's office, and this gives us something to help keep them occupied. On top of the bag there's another small pocket, which is where I keep the stylus for the iPad, as well as a thermometer. Although we aren't taking Hannah out in a public a lot right now, this gives me some peace of mind knowing that I can keep an eye on her temperature, especially during the summer. I also keep a germ grenade, which is a small bottle of sanitizer in a paracord holder, attached outside the bag. With a new baby, there's always a lot of people who want to hold her, so this to helps them to quickly sanitize first.
Bag Interior:
The main compartment is where we really start to get into it. First off, I always carry a first aid kit. Here, I'm using TBG's Tactical Utility Pouch, and I've just stashed all the basics in there. This is more for my older girls, who can't seem go anywhere without collecting a bump or scratch of some kind. 

I always keep at least 4 diapers in my bag. At the rate Hannah is going through these, that's enough for a couple hours. If an outing is any longer, I may have to stuff a few more in there. Along with those, I've also got a spare onesie. Between spit ups and diaper blow outs, infants tend to go through outfits pretty quickly. It's best to be prepared. Along the same line of thought, I also keep a spare t-shirt for myself, as well as an extra burp cloth and blanket. Seriously, things can get messy real fast.
Along the side, there's a pocket here where I keep the Milk Snob cover. If you're not familiar with it, the Milk Snob can be used as a nursing blanket, or as a cover for your infant car seat, shopping carts, highchairs, and infant swings. And while Hannah isn't super into pacifiers right now, we have found that if she's in the middle of a real bad fit, it helps if we can get her distracted with one. So, I've got a pacifier cord in here for just those occasions.
There's just a couple more odds and ends I keep in my bag. It seems like any time I need a pen or a sharpie for filling out a form or labeling something there's never one around, so I keep one of each in my bag. I also keep a couple latex gloves in my bag. Maybe it's my background as a mechanic, but it's a lot easier to just throw away a couple of dirty gloves than to use a ton of wipes trying to clean up after a really bad diaper change. And finally, I always keep butt paste on hand for diaper rash prevention. We've had good luck with that so far, and we're hoping to keep that going.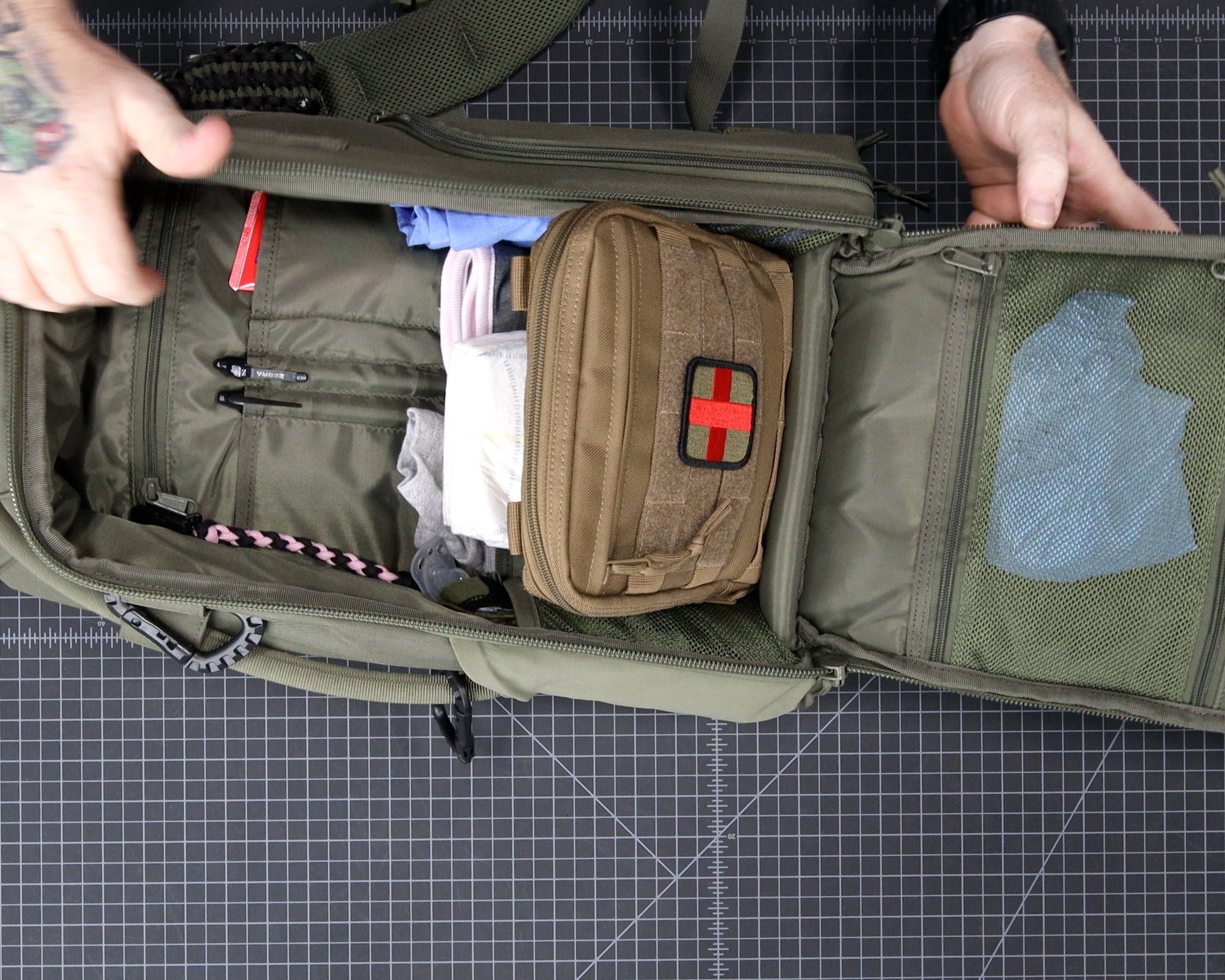 My Diaper Bag:
When I'm not in full prepper mode, I want to carry as little as I possibly can. I start with TBG's Fanny Pack. I throw a couple of EBOKS in the main compartment, which contain everything needed for a diaper change, including the diaper, some wipes, and a trash bag.
The front pocket I keep empty on purpose so I can stash my phone or car keys in there if I need to. In the rear, hidden pocket, I like to keep a little bit of cash–just around $30 or so–which comes in handy for grabbing vending machine snacks or giving the older girls a little bit of money to grab something fun at the store. Using the MOLLE webbing on the strap, I'll attach an insulated bottle holder for the baby and a dump pouch in case I get stuck with a dirty diaper where there's no trash can in sight. And just like that, I'm ready to roll out.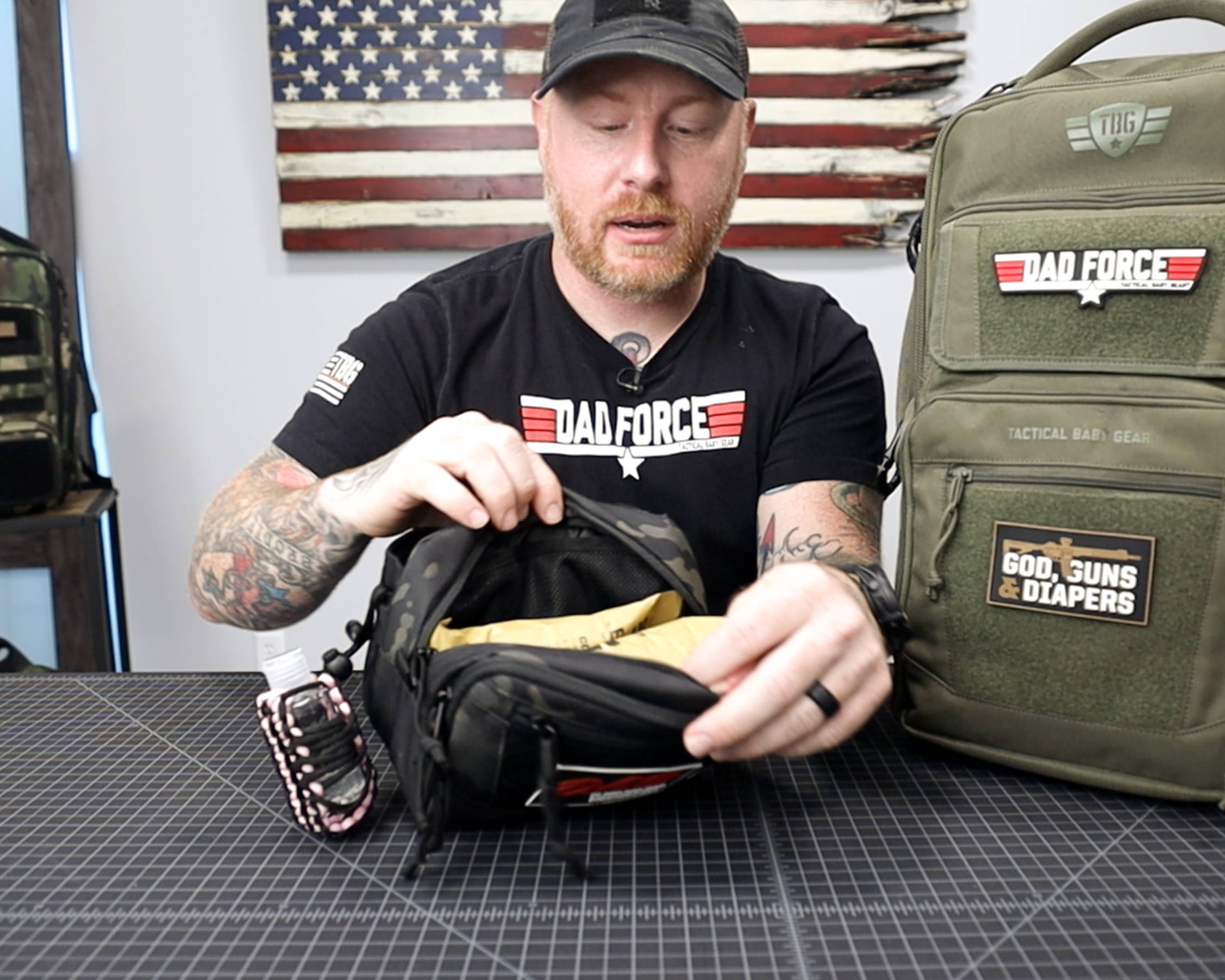 And that's just about everything I have in my diaper bags. I'm alternating between styles right now, based on where I'm going and how long I'll be out and about.
Watch the video below to see more of my set ups and hear some additional thoughts.