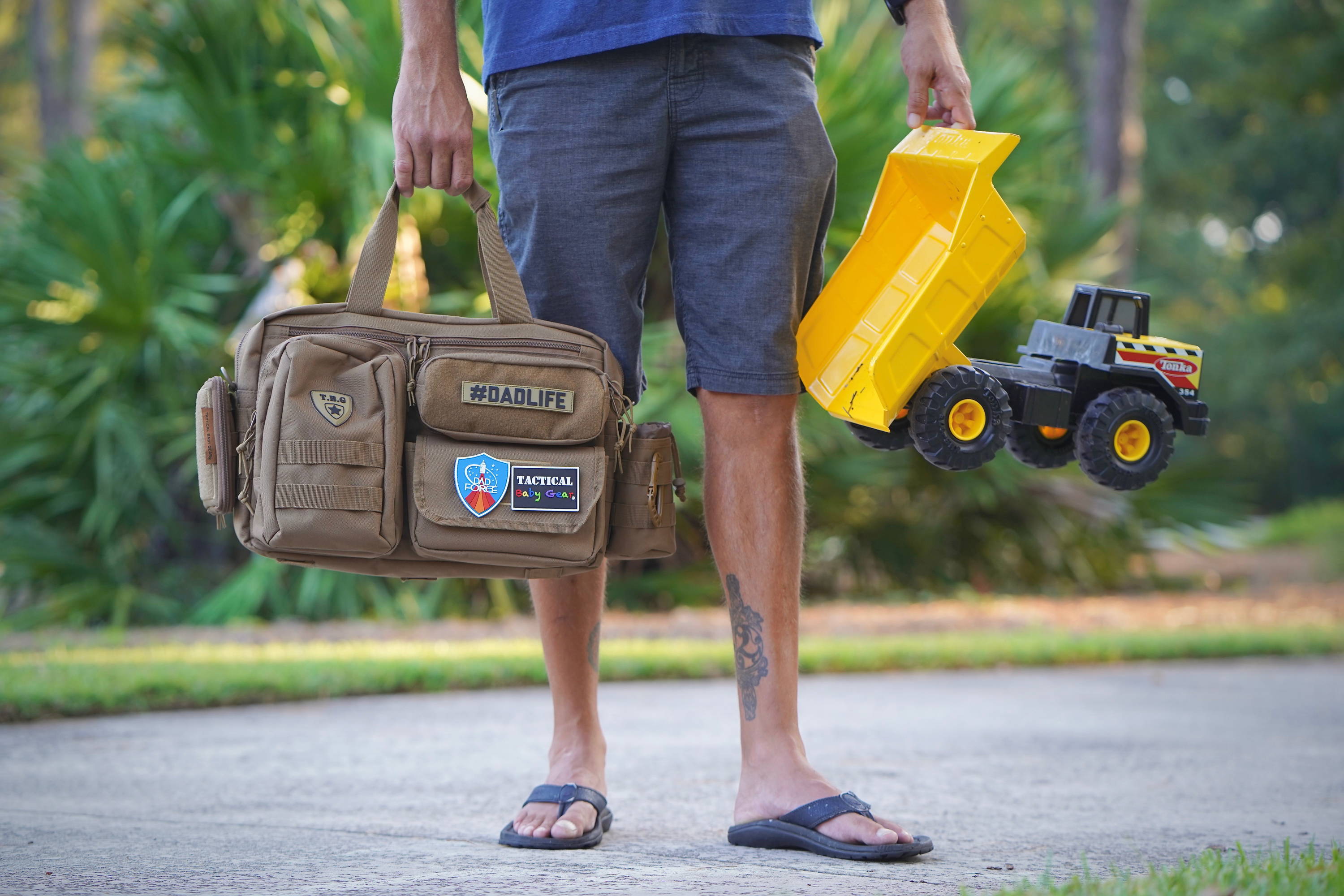 YOUR DIAPER BAG ISN'T YOUR CHILD'S ACCESSORY— IT'S YOURS.
Diaper Bags For Dads | The Ultimate Guide To Buying The Right Diaper Bag
If you're reading this, most likely you or someone close to you is in the market for a diaper bag. Whether you're about to be a new dad or you're shopping for someone who is, if you need a diaper bag but don't know what to look for, you're in the right spot!
I know how difficult it can be to sift through countless online reviews and get down to the nitty gritty advice that you can trust. Well, that's what we're going to tackle today when we look at "How To Buy The Right Diaper Bag".
As a dad of nine children (yes, I said nine!) I can tell you first hand some of the things to look for when shopping for a new diaper bag. As with most things today, there are literally hundreds of options, and this is especially true when it comes to shopping for anything related to your kids. I wasn't so lucky, however, when the first of my brood was little and I distinctly remember pushing a stroller through Disney World with an ugly, pale blue, plastic diaper bag. I'm sure it was probably a baby shower gift, but all I can remember was that it was tacky and horrible.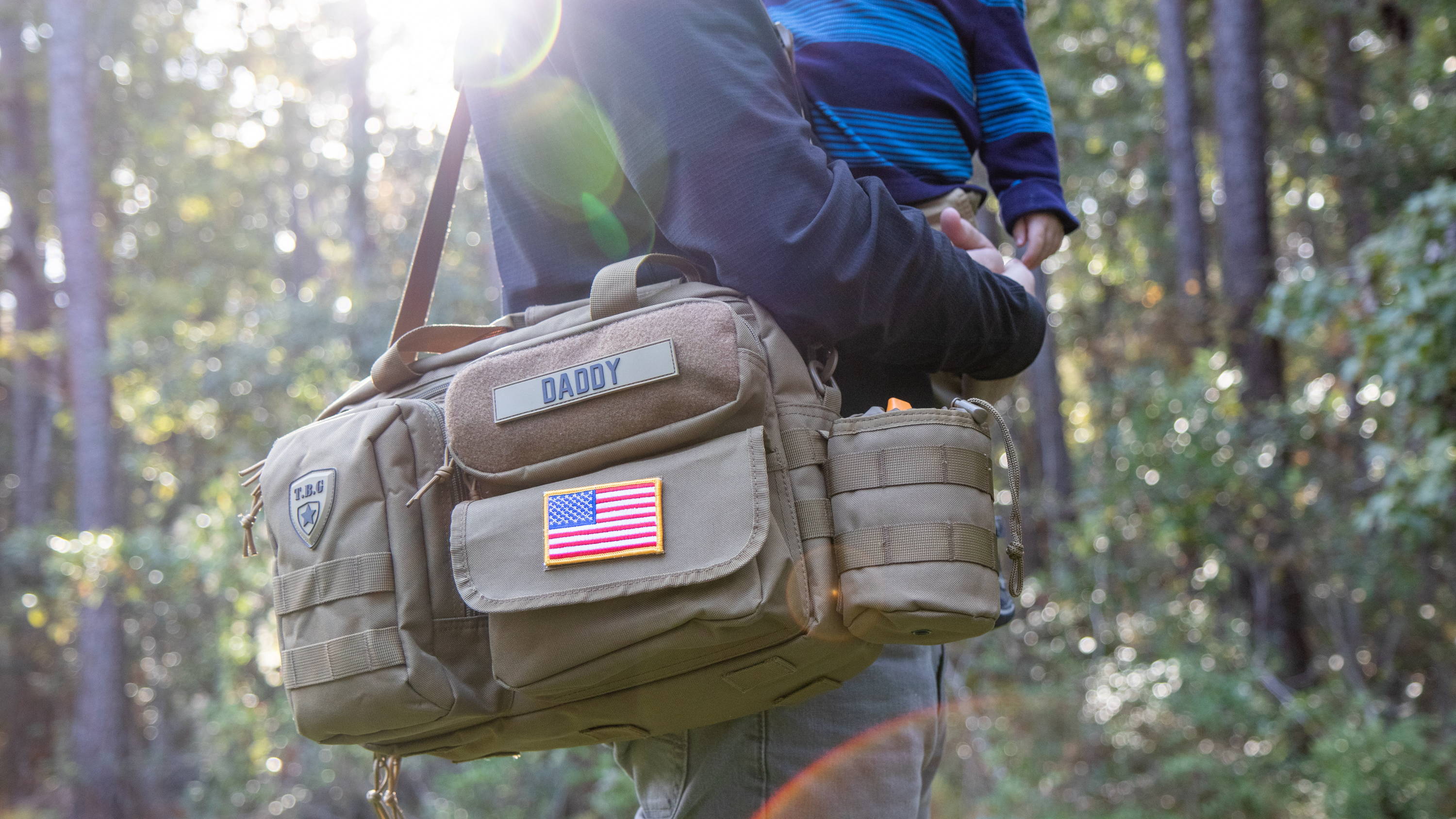 "Do Dads Need A Diaper Bag?"
First, let's touch on an important fact of life for new dads out there; if you're going to have a baby on your hip, and you would like to leave the confines of your home at some point, you need a diaper bag! And, yes, there are diaper bags just for dads! For something so small as an infant, they sure need a lot of gear. From diapers, wipes and bottles to extra clothes, blankets, diaper rash cream, hats, rattles, the list goes on and on. You are going to need something to carry all the necessities and then some. In the beginning, you'll feel like you're packing for a six-month tour of duty, instead of just a visit to the in-laws for dinner.

My youngest son is 3 years old and with all the kids in between, I have seen first hand the evolution of the modern diaper bag and, oh, how I wish I had something that was so well thought out over my shoulder back in the early days. Today, there are some truly awesome options for diaper bags for dads available. Of course, we want you to love the ones from Tactical Baby Gear. But, even if you're not into a 'rugged and reliable' diaper bag, you can definitely find something more manly than flowers and sunshine designs. It's those thoughts that bring me to one of the most important aspects of picking a diaper bag, and that is, what type of functionality are you looking for? So, let's look at the first big decision in choosing a diaper bag, the style.
Sign Up for the Tactical Baby Gear E-mail List Now For 10% off on Your First Purchase!
Diaper Bag Styles - Over the Shoulder or Backpack Diaper Bag:
Today, you have two main choices when it comes to a diaper bag, the traditional shoulder bag and messenger style or the backpack. I'm not going to split hairs and go into "designer" or "tote" bags as they are similar to the traditional shoulder bag with a strap. Between the two, each has its benefits. Think about your specific needs and how you plan on using your diaper bag. Will you be pushing a stroller all the time? Will you be wearing the baby in a carrier? Do you travel often? Do you have other kids and need to carry some items for them? Do you have twins? A lot goes into deciding between the two, but knowing your needs will make the decision process easier when choosing a diaper bag. When all else fails, you can check out some of our Youtube videos to see both styles in action.
Shoulder Style Diaper Bags:
A shoulder diaper bag is about as functional and convenient as you can get. You grab it, sling it on your shoulder and go. It doesn't get much simpler. A shoulder style bag is also the perfect diaper bag for dads who plan on sharing the bag with your spouse or partner or find yourself in a situation where others may be using the diaper bag such as a babysitter or grandparents. Adjusting the strap is quick and easy and typically these styles are easy to hang on a stroller too. Having it on your shoulder also makes it easier to access baby supplies while in action; the shoulder bag is accessible at all times where a backpack diaper bag needs to be taken off to get into the pockets. The layout of the shoulder bag also makes it a bit easier to open up and be able to see and locate everything (sometimes a bit trickier if something scoots straight to the bottom of the backpack...and what you're looking for usually does). Deuce 2.0 Tactical Diaper Bag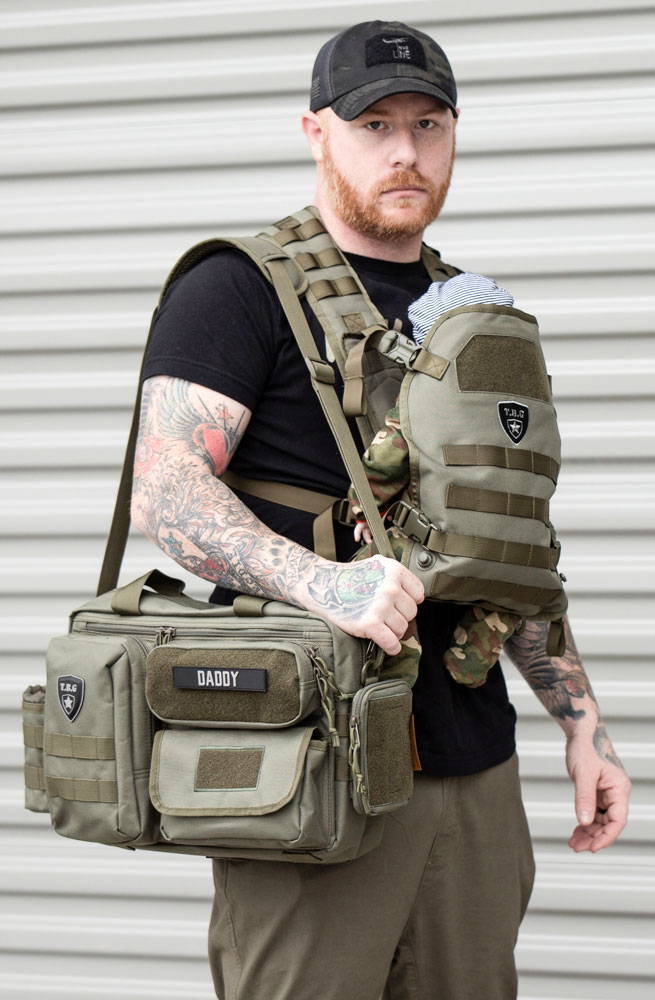 Backpack Style Diaper Bags:
A backpack diaper bag is just what it says, a diaper bag configured in a backpack that offers you a hands-free option when lugging around all that baby stuff. Some guys (and gals) don't like the shoulder style bag because it's either not as functional for them or they may have a possible hang-up that it looks more feminine. Whatever your reason, you can't beat the ease, usability and convenience of a diaper bag backpack. Also, particularly important when your baby is still being lugged in the car seat carrier, it can be extremely irritating to have the shoulder bag falling off your shoulder while you're trying to carry/move your baby around - the backpack avoids all that! One additional, cool feature our TBG Daypack 3.0 is the heavy duty handle on the side of the pack that lets you grab the bag in a hurry or when you don't need it slung over your back. This is a great feature when packing the car or hustling through an airport or train station.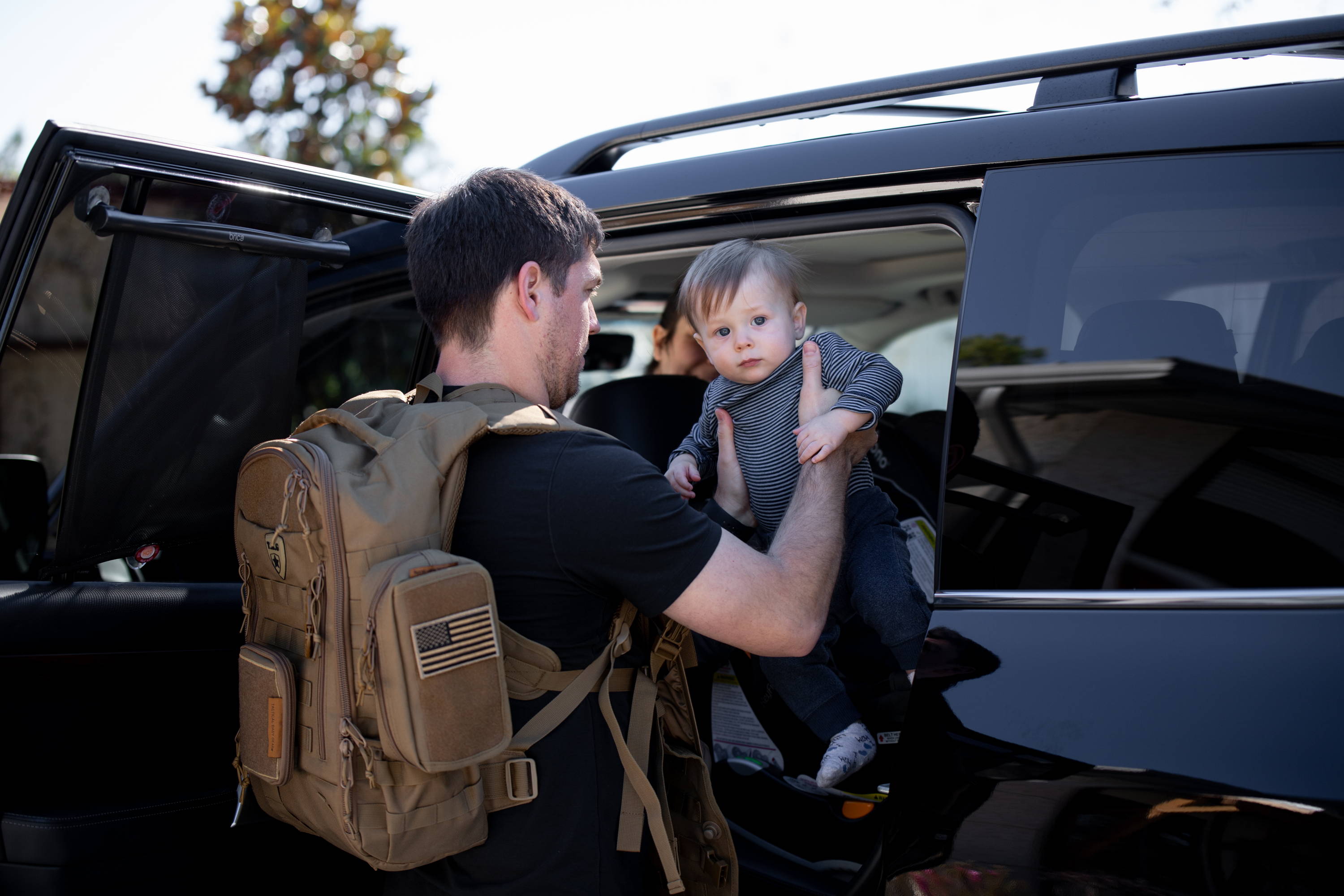 The Most Important Diaper Bag Features You Need:
Years ago, a diaper bag was just a glorified duffle bag with a paisley pattern on it and if you were lucky it had a divider inside and maybe a pocket or two outside (maybe). Today, new dads venturing out with the littles ones definitely need a diaper bag that will keep them organized and help them get the job done. You want to look for a diaper bag that can withstand moisture and dirt, and a diaper bag that can be used for other purposes even when the baby no longer uses diapers. Of course, it doesn't hurt to have a cool looking diaper bag while you're at it!
Babies and toddlers are messy...like really messy (seriously). Baby vomit, snot, blow-outs, leaky bottles, you name it! There is disgusting danger waiting around every bend to wreak havoc. Having a diaper bag that is easy to clean is an absolute necessity.
Another important consideration when shopping for a daddy diaper bag is how comfortable (or not!) it is to carry. Whether you get an over the shoulder or backpack style, make sure the straps are easily adjustable, padded, and of course durable. Your diaper bag will become a super-important piece of your on-the-go kit and you want to make sure that at the end of a long day of hauling around the kids you're not dreading carrying your bag around.
Check out the TBG Podcast to get Real Advice from Real Dads!
With all the baby stuff you're going to need, you want to make sure there's someplace to put it. This is one area that separates a terrible diaper bag from the great ones…the layout of pockets. Internal dividers, specifically designed pockets, places for wipes, bottles, extra clothes and even stuff for you like your phone, tablets and chargers all need a home. A well thought out bag will have a spot for dirty and wet clothes, a spot for bottles, someplace to attach toys and bigger pockets for bulky items. Want to always know where the pacifier is? Yes! You do! Be sure there are enough pockets to have one dedicated to holding it!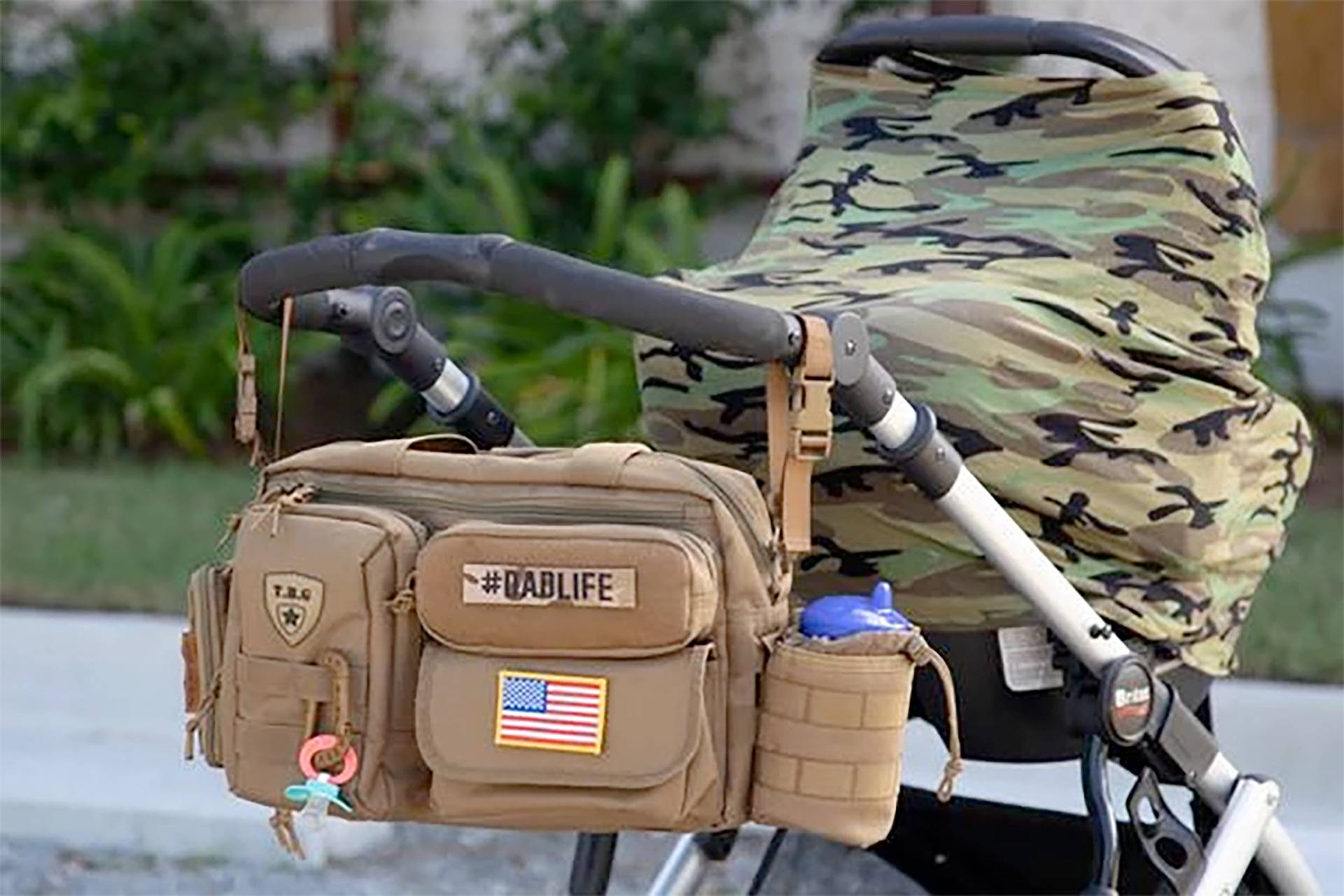 Now, if you're about to be a new dad and you've been doing your share of getting ready for the big day, you may have read that attaching a diaper bag to a stroller is a no-no. Obviously, this is more advice from people whose kids are grown and those years are long in the distance, or maybe they weren't parents at all. Hanging your diaper bag from the back of your stroller is one of the most convenient ways to haul around all this baby stuff! We're not just talking about looping the diaper bag straps over the handles. Look for a diaper bag that has specific straps and hooks to securely and safely attach your diaper bag to the stroller. Safety is always the first priority! Our TBG Deuce comes with stroller appropriate straps.
Every diaper bag you buy will have some set of straps and zippers, but you want to make sure you're buying a bag that has high quality materials and durable components like heavy duty zippers…not all zippers are created equal! The last thing you want to happen during your day out at the zoo is a zipper to jam or a strap to break. Particularly keep this in mind if you are intending to have more than one baby (like 2 or 3 or 9!) and are interested in having your diaper bag last for a long time.
This is one feature that is often overlooked if you are a new parent ...wipes will become your new best friends and you want to make sure you have them close at hand. Did we mention babies are messy? Very messy! You will want to be able to whip out some wipes at a moment's notice and not just for changing diapers. Wiping down shopping carts, cleaning high chairs, getting crud off just about anything and the never ending battle of wiping hands and faces.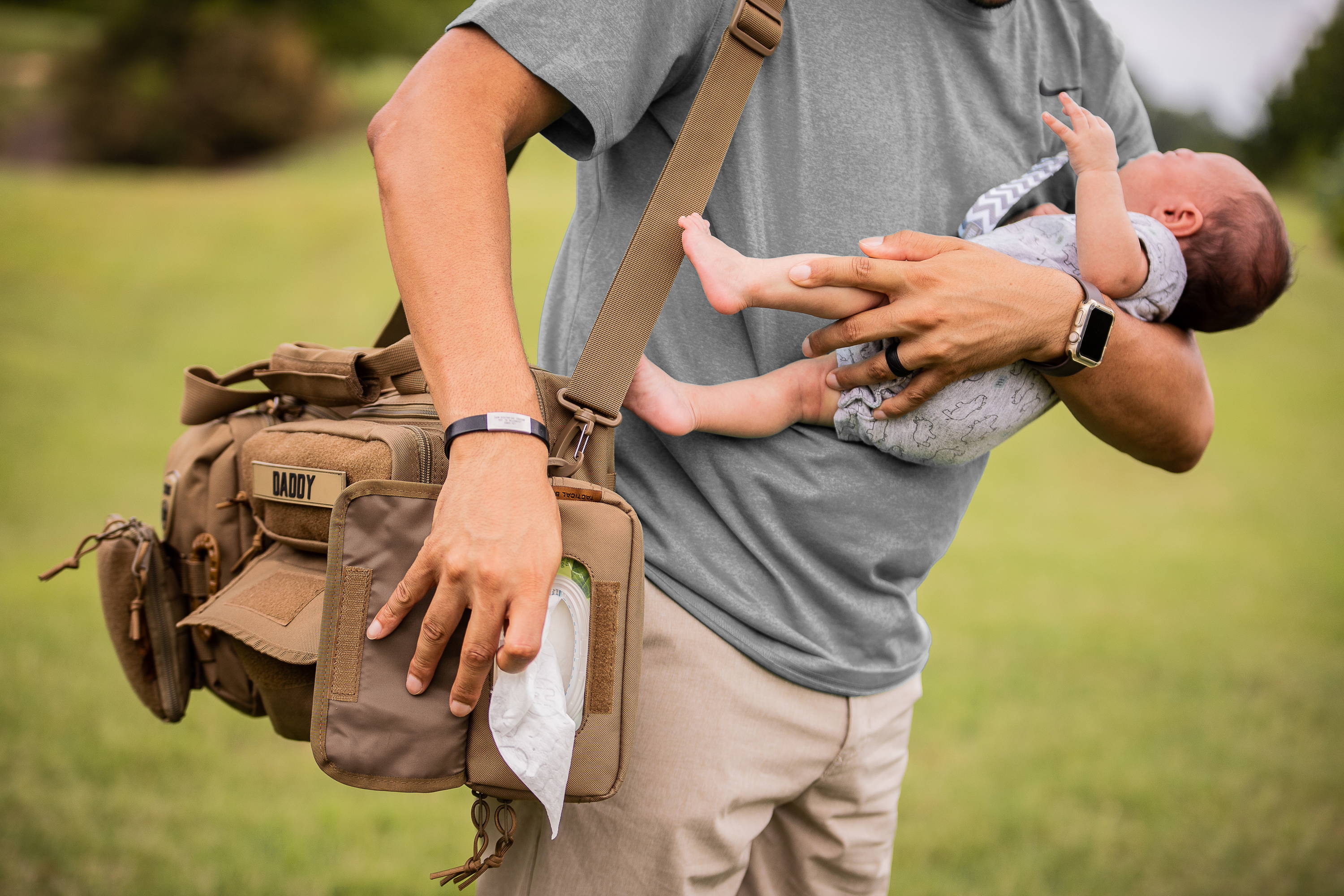 Phone and Tablet Pockets:
One particular feature I like in a diaper bag is a spot for my tablet and storage for my charging cables, power packs, and cords. Traveling with kids is hard enough, and if you can utilize space you already have when your packed up, the better off you are. Our TBG Daypack has a ton of different storage pockets, zippered compartments, and places to stash all your tech gear right along side your baby gear.
Having a spot for formula, breast milk, baby food, and other items that need to be kept cold is important too. Many diaper bags either have a built in insulated pocket (or two) or you can get an insulated matching pouch/bag as an accessory. As kids get older, these spots are great for holding sippy cups, juice boxes and more. Some are big enough to hold your Red Bull too! TBG COOLER POUCH
When you're a new parent, you probably don't realize all the baby stuff you need (or at least what people think you need) but one thing you don't want to be caught without is a changing pad. A changing pad is a soft pad that usually folds up for travel and is the perfect spot to lay your baby down when you need to change a diaper. Finding a clean spot to change the baby when you're on the go can be a challenge! Do you really want to lay your new baby out on a gross public changing station? Of course not! A diaper bag that has a built in pad or comes with a matching pad is a necessity and something you don't want to leave home without. TBG CHANGING MAT
All that baby gear you'll be carrying around needs a home, and all that stuff for you needs a spot, too. That's why plenty of space will come in handy. Now, a bigger diaper bag doesn't necessarily mean better, but what you want here is a well thought out plan of attack. You want a diaper bag that will let you find (and quickly access) just what you need at the right time. You're looking for smart, usable space. I realize that this is different for everyone, which is why there are so many diaper bag options in the world! Are you a minimalist? An over-packer? Planning on some overnights with the baby? Think these things through as your investigating the insides of some potential bags.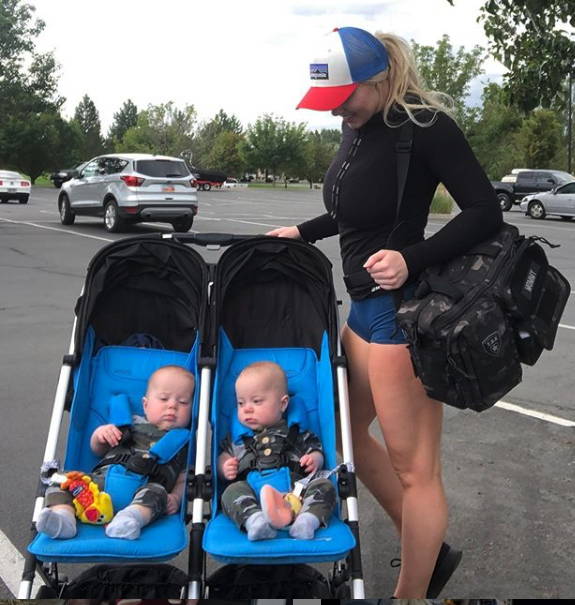 How you use and carry your diaper bag may be different from your spouse or partner when it comes to baby duty. What works for one person will not always work for another. However, if you pick a solid diaper bag with a good set of features, your other half should enjoy carrying it as much as you do. Today, we were talking specifically about diaper bags for dads, but our list of the top diaper bag features you need also holds true for all the moms out there. Our diaper bags here at TBG lean a little more rugged and mission focused, but we want moms to know that we are here for you too, and our bags also come in solid colors.
Are You Ready To Buy Your Diaper Bag?
Choosing a diaper bag is more important than you might think. This is an item you will be using from the time your kid is an infant all the way through the toddler years. Thinking through the features you want and how you plan to use your diaper bag ahead of time will lead to a successful and satisfied purchase. Will you love hauling it around? Can't stand to use it? You want your diaper bag to be the perfect spot to store everything you need while you're out and about. I hope this blog will help you make a great choice. Congratulations and good luck!